Tezpur
BOMDILA-DIRANG
TAWANG
THE LAND OF THE RISING SUN
The circuit covers a distance of 350 km starting from Tezpur in Assam to the 17th century Tawang Monastery situated at an altitude of 10,000ft.
Bhalukpong
Bhalukpong is a small town located along the southern reaches of the Himalayas in West Kameng district of Arunachal Pradesh in India.
Dirang
Dirang: (42 km from Bomdila, 1497m above msl) Hot water springs where people take bath for curing skin ailments, Apple and Kiwi orchards, National Yak Research
Tippi
The river Kameng after completing all turbulent courses enters Bhalukpong in a serene flow which provides rare opportunity of adventure tourism and a beautiful picnic spot
Bomdila
Bomdila is the headquarters of West Kameng District. The place is inhabited by tribes like Aka (Hrusso), Miji (Sajalong), Monpa, Sherdukpen, and Khawas. Its craft centres, monasteries, ethnographic museum and emporium etc. are must-visits
Tawang
Tawang is both historically and naturally endowed. The natural beauty and solitude of Gudpi and Chong-Chugmi ranges, Tawang chu River and Tawang valley are very mesmerizing.
Sessa
Sessa Orchid Sanctuary is a 100 km2 protected area of India in the Himalayan foothills in Bhalukpong Forest Division of West Kameng District, Arunachal Pradesh.
Chillipam Monastery
The beautiful Chilipam monastery is on a hillock near to the Rupa town. You have to take a deviation from Rupa to go up the hill to visit this picturesque monastery on top of the hillock.
The Monpas are one of the Major tribe of Arunachal Pradesh. The Monpas are Buddhists by religion and Tawang Monastary is the fountainhead of their spiritual lives. They are by and large agriculturists and they have their own distinctive way of clothing themselves, well adapted to the conditions of their environment. 
The Sherdukpen tribe derives its name from Sher (Shergaon) and Tukpen (old name for Rupa) villages in western Arunachal Pradesh.  They have inhabited this mountainous region and lived in coexistence with the Monpas, and other ethnic groups 
Sherdukpen people celebrate Buddhist festivals similar to other Buddhist communities in the Himalayan region. The Tibetan Chaam Dances are commonly seen even among the Sherdukpen festivals. Lossar, the Tibetan New Year is also a special occasion for the Sherdukpen. Wang is also celebrated twice a year in honour of the Buddha.
Khiksaba is an indigenous non-Buddhist festival of the Sherdukpen, dedicated to appease the forest deities and other mountain spirits. Rep Lapchang is the harvest festival which is also popularly celebrated by the community. Such festivals are presided by the Jiji, or local Shaman instead of the Buddhist Lamas.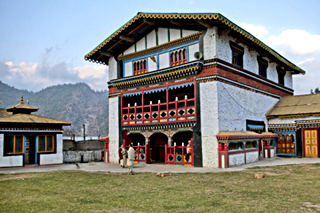 Before You Travel
Things to keep in mind before traveling
Every tourist visiting Arunachal Pradesh needs to obtain an Inner Line Permit and a Protected Area Permit which can be collected from Delhi, Kolkata, Guwahati or Tezpur airports.
The weather in the north-east is pretty unpredictable, so be prepared to have delays due to the bad weather.
Locals are friendly and helpful. Be patient as not everyone will know fluent Hindi or English.
Don't forget to carry some ready to cook food packets or instant noodles if you're strictly a vegetarian.
Carry extra batteries, power banks and most importantly warm clothing.
Keep at least a couple of extra days in hand in case of any problems like landslides and bad weather on your way.
If you are travelling by Pvt Vehicle/Car/Suv Pls carry snow chains or Nylons ropes during Winter to navigate through snow at Sela Pass..
How To Reach
BY AIR
The nearest International Airport from Tawang is Lokpriya Gopinath Bordoloi International Airport, Guwahati, roughly an 11-hour drive to Tawang. The Airpot is well connected to the major cities like Delhi, Mumbai, Bangalore, Chennai, Kolkata, with at least 3-5 flights daily to each major city.
BY TRAIN
The nearest railway station is Naharlagun/Itanagar, roughly about 4 hours drive from Bhalukpong. There are daily trains running from Itanagar to Guwhati and Rajdhani express which runs twice a week.
Tawang is a town in Arunanchal Pradesh, profusely bestowed with pristine nature and a vibrant ethnicity. There is a mesh of India and China which can be witnessed during your trip to Tawang. The popular Tawang Monastery plays a special role in attracting different travelers here. Best time to visit Tawang is between March and October and for season-wise details of the town, you must read further.
| Seasons | Months | Temprature |
| --- | --- | --- |
| Summers | March to june | 5 °C – 22 °C |
| Monsoon | july to September | 15°C – 20°C |
| Winters | November to February | 2°C – 10 °C |
Tawang in summer – From March till June
Summer is best time to visit Tawang. The temperature during this time ranges between 5 degrees celsius and 25 degrees celsius. The days are pleasant and nights are colder. On your visit to Tawang, don't forget to visit the popular attractions of Tawang, Tawang Monastery, Sela Pass, Taktsang Gompa, Gorichen Peak and Shonga-tser Peak.
Tawang in Monsoon – From July till September
Tawang is mostly wet during monsoon season. Copious rainfall is sprinkled all over the vicinity and the temperature drops. However, Tawang looks even more enchanting during this season. Visit Tawang in monsoon is a good idea, if you love rains.
Tawang in winter – From November till February
Winters in Tawang are chilly and the temperature sometimes drops near the freezing point. The maximum temperature during winters in Tawang gets around 10 degrees. The coldest month of winters is January. If you are traveling to Tawang during this season, make sure you have enough clothing to keep yourself warm